For the second in our "Featured Business" series, I've chosen "Creative Cookie", a company that has been a part of the gift industry for even longer than I have.  Even though they are long-timers in the industry, owners Marty and Joan Schwartz are never too busy to provide the excellent customer service and friendliness that I and other gift company owners have come to expect. 
I first met Joan at a tradeshow a number of years ago when I stopped by her booth.  Since that first meeting, whenever I see her at a show, she remembers me and takes time to talk.  When I call for a special request, she is one of the most accomodating vendors in the industry. 
If you aren't familiar with Joan and Marty Schwartz and Creative Cookie, you should be.  They only sell wholesale and don't try to compete with their own customers as many vendors do.  Their fortune cookies are available in such a wide variety of themes that there's a theme for any occasion or holiday.   Each colorfully designed pail contains nine individually wrapped cookies.  Custom fortune cookies, bulk fortune cookies,  and personalized fortune cookie pails are available.   And for our Jewish friends, these fortune cookies are certified kosher.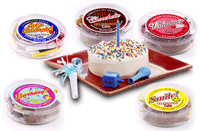 But Creative Cookie isn't just about fortune cookies.  Their Celebration Cakes are a party just waiting to be celebrated.  The round hard plastic container contains everything you need– from the cake to the balloon– for your own personal party.  We include these in most of our Birthday gift baskets.  But don't stop with birthday parties, there are themes for just about any occasion.  And, pssst….I'll let you in on a secret.  They can create custom Celebration Cakes just for you and your business.  What a great unique marketing tool!
And then there's their "to die for" gourmet fudge, gourmet chocolate "Sweet Talkers" (another great marketing tool for your business).  If you're a retail business, you can buy direct from Joan and Marty through their website at www.creativecookieetc.com. 
But, if you aren't a retailer, contact me at [email protected]  and I'll be happy to give you pricing and information.  You can see more of the Fortune Cookies on my website at www.shopcreativegifts.com/fortune-cookies.htm