About Gift Business Success Express - You and Me
The statement "we have been there and done that!" is an honest one.
Going all the way back to 1992, I created a local gift company, Creative Gifts To Go,  that mushroomed into a national one.
In 2002, I added GiftBasketNetwork, a worldwide directory of gift companies that sent traffic to our member companies.
The next step was adding the community in 2008, located first at GiftRetailersNetwork and now as a Facebook group.
On March 1st, 2010, we sent out our very first issue of our digital magazine and continued to do so for 13 wonderful years.
But the world, technology and even our industry evolves and continues to do so.
Directories were no longer effective with Google Search and people seemed to have less and less time to read a 20-30 page digital magazine each month -- so both of these were discontinued.
But we are still here to help you start and grow a successful gift business.
Gift Business Success Express is all about YOU and being your own boss in a rapidly growing and changing industry. Whether you are just starting a gift business or have been around as long as I have, you should find information that will give you an "ah-ha" moment.  I'll be updating it regularly with lots of information to help you along the way.
And best of all, you won't have to remember to visit us.
We will be reminding you with a weekly update of what's new. i
Believe me it's a wonderful feeling to get up when you want to, drink your morning coffee while reading the morning paper, and take time out during the day to take the dogs for a walk in the forest behind my house or to have lunch with friends.  And you can do the very same thing while growing your business.
And to let me know that you want these weekly updates which will serve as your alarm clock to remind you of what you are missing, sign up here.
Remember - I said this site is all about YOU and Me.
I'll start with Me so that you know who is behind this.
About Me: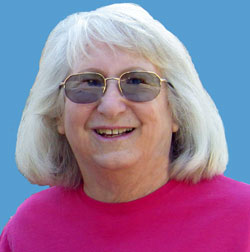 My name is Joyce Reid and I work from my home in Flagstaff, Arizona -- in the heart of Grand Canyon country.
During the years that my daughters were growing up, my husband Ron  (the wind beneath my wings) and I lived in different small Forest Service communities in California where I volunteered, served on the City Council, planning commission, and school board.
But I also taught myself to write, discovering the secrets of using fiction techniques to write dynamic sales pages and other marketing materials as well as non-fiction articles which I sold to many regional and national magazines.
After we moved to Flagstaff, more than 40 years ago, I bought my first computer and discovered a whole different world where I could correct my mistakes without using an eraser or white-out. Computers advanced and I studied and taught myself to keep up with the changing world.
The girls grew to high school age and Ron brought home a small newspaper that he discovered while working on a fire with the Forest Service in Idaho with the idea that "we can do this!"
And we did.  We knew nothing about publishing a newspaper, marketing one, or anything else to do with the publishing industry.  Once again, I found books and taught myself what I needed to know.  Our paper started locally but expanded throughout the whole state of Arizona before we sold it for a profit.
Real Estate drew my interest, as we had dabbled in it as investors and also through buying and selling houses as we moved from one Forest Service community to another, and I became a Realtor.  As I gained listings and sold properties, I put together gift baskets for my customers.  I laugh to think of what I called a gift basket back then but they were appreciated enough to bring me enough referrals and repeat customers to make me a multi-million dollar producer.
But something was missing.  I began to think that making gift baskets was a whole lot more fun than dealing with title and loan companies and having to meet with customers on weekends when I preferred to be home with my family.  I wasn't dependent on that income so I said good-bye and started Creative Gifts to Go.
That was over 30 years ago and I've never looked back.
My writing ability led to my writing for trade magazines which led to speaking at conventions and eventually to creating my own information business for the industry.  I was asked to be a counselor for SCORE (Service Corps of Retired Executives) and as a business coach and teacher for my county operated Small Business Business Empowerment program.
And that has led to this venture to help others achieve their own success.  I've developed other blogs and online businesses in various niches and formats. I  like working from my home office and studio.
I established Gift Basket Network which has evolved into this website -- Gift Business Success Express-- to help you do the same.  We are no longer just gift basket companies as our industry has expanded far beyond that.
My goal is to just show you what works for me in the hope that it will work for you too. All of the  strategies, ideas, and tips mentioned here have been tested by me and I'm sharing them with you in the hope that you, too, will discover the joy of running your own business.
Even more important, It is All About YOU!
Why include an about you section in my about me page?
Well, because my business is all about helping you start and grow your business to success. That's why it's called the Success Express!
Learning doesn't require a college degree.  Although my education includes Judson College and the University of California at Berkeley, I learned nothing about operating a business there.
I attended some SCORE workshops when I started my first business but basically I'm  self-taught.  I'm no different than many of you.  Some of you probably have marketing or business degrees but I suspect most of you are just like me.  You have the desire to make your dream first a reality and then a success.
If I can do it, so can you!  So don't let anyone tell you any differently.
I honestly believe that helping others is the only way to live my life meaningfully. I always try to respond to every comment and email that I get and aim to develop friendships with as many of my readers as possible.
We are on this trip together.  I invite you to share your comments on each article that you read and even to submit guest posts that share your experiences and what you have learned from them.  And join in the conversations in the forum -- create new ones and participate in the existing ones.  This website is all about you.  It is now up to you to make it YOURS!