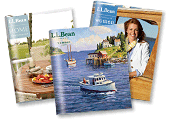 One of the most valuable things that I have learned through the years is to study what other industries are doing and see how their successes can be applied to my industry.  Today's tip isn't from the gift basket industry.  It's from L.L. Bean.  Now, just in case you are one of the few that aren't familiar with this company, it is one of the leading catalog companies that sell outdoor clothing and gifts.
Now most of us, as small micro businesses, don't have the funds to print full-color slick catalogs of the L.L. Bean quality but we can perhaps swipe an idea that the company used in a letter from the company's President/CEO to its customers.
The letter begins "Today while many familes are looking for ways to stretch their budget, they're often challenged to make the difficult decision between quality and price.  At L.L. Bean, we've never offered a choice — we've always insisted on both."  He then refers to what he calls "Bean Value" items — many of which are customer favorites–whose prices haven't gone up in price in years.  In some cases, the prices have actually gone down.  "We've never played games with prices — in good times or bad," he continues.
I'm not suggesting that you copy this letter but to use the basic idea to reassure your own customers that you are concerned about their budget and to tell them what you are doing about it.
Add your comment telling us what you are doing to reassure your own customers.