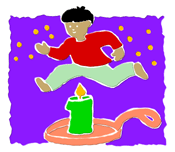 One of the biggest benefits that we, as micro business owners, have over large businesses is the ability to be flexible and to change quickly.  We can respond to market changes and trends.  We can change something, test it to see if it works, and if it doesn't, change it again.
If you're an online business, as I am, you can make changes daily on your web pages.  If you get a great price on something or a new item comes in, you can tell your customers about it immediately on your website or by sending out an email message.
Michael Gerber, author of The E-Myth tells us that "the difference between great people and everyone else is that great people create their lives actively, while everyone else is created by their lives, passively waiting to see where life takes them next.  The difference between the two is the difference between living fully and just existing."
The same statement can be applied to our businesses.  We can wait as the economy and our customers determine where we'll go next or we can get off our duff and take charge.  We can exist or grow our business to its maximum capacity.
Regardless of what kind of business you're in, there are only four ways to grow that business:
Get new customers
Increase the dollar amount per transaction
Increase the number of transactions per customer
Increase the length of time your customer stays loyal to you.
One of the biggest mistakes that entrepreneurs make is focusing their entire energy on getting new customers.  Not only does this cost more than keeping existing customers, but it takes more effort because you have to be constantly looking for new ones to replace the ones you lose.
The other three options depend on your staying in touch with your customers on a regular basis and ALSO on continuing to think of reasons for that customer to buy from you either more often or spend more when they do buy.  Creating systems (something I'll discuss in a later post) makes it much easier to stay on top of this and make it work effectively for you.
For example, you sell a baby basket.  Contact the sender 11 months later and suggest sending a one-year-birthday gift.  Your Realtor customer orders a closing gift.  Suggest that they stay in touch with their customers (and get those listings and referrals) by sending a six-months gift and a one-year-anniversary gift.
Add-on gifts can increase the dollar amount for a transaction.  Think outside the box and look for new and different products that they "simply can't resist."  Or how about creating a Costumed Delivery for an extra charge.  A jolly leprechaun could deliver a St. Patty's gift.  Santa or one of his elves could make those Christmas deliveries.  Or, if you're one of the fortunate few who can carry a tune (and that's not me!), provide a singing delivery service.
Being a micro-business is what enables us to be Creative  Entrepreneurs.  So put on your creative thinking cap and think of some ideas that would enable you to be nimble and test some new and different marketing ideas.  And while you're at it, share some of those ideas with us.  Just click on "comment" above and share.