One thing that I'm frequently asked is "How many times during the year should I contact my customers?"  My answer is simply "When you have something to say or something worthwhile to offer.  Otherwise, leave them alone."
I've signed up for email lists with businesses that offered services and products that I thought would be of benefit.  Some I have even purchased ebooks or other services from.  Most of them respect my time and send emails only when there is something new that I might be interested in or when they are providing information to help me grow my business.  But there are a few that send emails every few days that are nothing but ads.
Some of you signed up for email notifications each time I make a post on this blog–which is usually every day except Sunday.  Hopefully each post provides something of interest to you.  If not, you'll quickly cancel your email subscription.
Your customers are no different.  There are times to contact them.  And there are times to leave them alone.  If you have information about your industry that will benefit them, by all means send it to them.  If you send out an ezine or newsletter, don't make it nothing but ads for your products.  Instead include information that will interest them.
Rick Segal, the retail marketing expert, sends out a weekly email every Tuesday.  His emails are the kind to emulate.  There is always an article about some aspect of the retail business.  There is always a funny joke that I usually read as soon as I open the email.  And below that joke, there is an invitation to join his retail counseling group.  No hard sell.  No "you've got to join today or …."  Nothing but an invitation and a link to his website.
On the other hand, I purchased an ebook about copywriting from Bob Bly. Now, I've heard Bob speak at writer's conferences and have been impressed with his expertise.  The ebook contained valuable information that I learned from.  But, once I made that purchase, I was bomblasted with emails from him.  These weren't emails providing information with a sales pitch attached. They were nothing but sales pitches.  After a few weeks of this, I hit the unsubscribe button.
But the one time that you absolutely should contact your customers, because it's the right thing to do, is to say thank you.  You can do this via email but a personal note is even more impressive.  1-800-Flowers has this down to a science.
Approximately two weeks after you place an order, you receive an email that is warm and fuzzy as all thank you notes should be.  But the smart thing about it is that it follows another basic marketing rule–It invites a response by including a special offer.
It begins with the warm greeting thanking the customer and continues…"to show you how much we appreciate the opportunity to help you connect with the people you care so much about, we'll take 15% off your next purchase if you use Promotion Code … by (expiration date). "   The note continues, reminding the customer of their "Gift Reminder Program" and is signed by the President of the Company.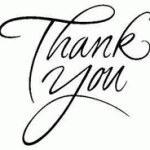 With this Thank You note, the company is making it easy for busy people to never forget a special occasion again.  Busy people are also lazy. . .and forgetful.  Remind a busy man of wife's birthday and suggest a gift and chances are good that you'll get the order.
I received a phone call on Mother's Day morning (and that's Sunday) from one of these busy people asking if I could deliver a gift to her mother that day.  I did.  But I will also send her a note asking her if she would like to be reminded earlier next year.
Thank you notes are one of the best marketing tools you can use.  They are easy.  They are inexpensive.  They are appreciated.  And they provide an excellent opportunity to contact the customer.  But they also happen to be the right thing to do.