We've all seen those cute little heart-shaped boxes of chocolates that cost $1 or so each around Valentine's Day.  It's attractive and not a bad size at all.  I suspect many of you have even bought them to put in our Valentine gift baskets.  Well, Consumer Reports has exposed what is really in that cute little box — four little chocolates.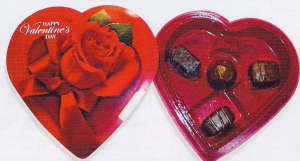 I like to give my customer's value for their money and this isn't it.  Yeh, yeh, I know it's only a dollar but I was shocked when I saw this photo.  I could just imagine what my customer's would think when they opened this attractive box.  Definitely not value.
"Well," I told myself when I read this, "I suspect if I had read the label, it would be obvious what I was buying."  So I went to a store and looked at one of these heart-shaped boxes from Elmer's.  The required ingredient list on the back was just as deceptive.  It stated that One Serving is One Box instead of revealing that one serving is four pieces.  It does say that it is 2 ounces which, if you think about it, isn't very much.  Those of us in the gift industry are well aware that 2 ounces is pretty typical for a small box of chocolates for $1.  But those boxes are about 1/4 the size of this one.  You get a small box with not much in it.  That's not what you get with this Elmer's Valentine box.  You get a large box with not much in it.
So I went to their website to see if they told it like it was.  I found photos of smiling people giving and receiving the heart shaped boxes along with pictures of the assortment of designs on the boxes.  Not too bad.  Then it said, "Delight and impress the one you love with a gift from Elmer Chocolate. Our irresistible milk and dark chocolate collection is a surefire way to get the fire going for your best Valentine's Day yet."
Impress?  Doubtful.  Get the fire going for your best Valentine's Day yet?  When my sweetie opened that box, it wouldn't even spark a flame.  I guess it can be summed up as "in this case, you get what you paid for — a pretty box."