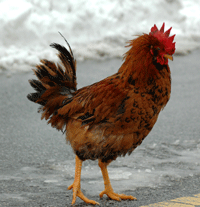 It has been said that there is nothing new left to be created.  I don't believe that but I do believe that a lot of Creativity is a matter of taking something that already exists and finding a new, unique way to use or package it.
A great example of this was mentioned in the current issue of AARP Bulletin.  The latest and greatest is diapers for chickens.  "The idea was hatched to help chicken lovers keep or care for their pet bids indoors or while transporting them to poultry shows."   The company Pamper Your Poultry offers diapers and dresses for your fashion-obsessed chickens in a variety of sizes and even in designer prints.  These unique fashions are handmade by the Women's Sewing Cooperative in the Dominican Republic.
Another company, Hen Saver, has taken it a step further with their harness design that has a D-ring on the back so that the hen lover can easily attach a leash to take a favorite chicken for a walk.
If you're bored with what is available for your personal or business use, why not put your own creativity to work and think of a unique new way to improve or use something that already exists.  That's what you call "Thinking Inside the Box."