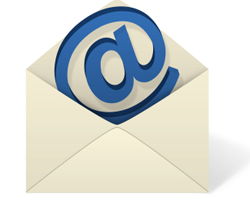 Are you using email to grow your business?
It not, why not?
It is one of the fastest ways to get information out to your customers. Remind them of an approaching holiday. Tell them about a new product. Send them some information that applies just to them at just that moment.
Emails can be effective because, if written well, they can get  your message across quickly, straightforward, and allow you to make a personal connection with your customers.
Just be careful that your emails don't make the customer feel like they are always being sold to. Do that too much and your emails will be deleted without being opened.
You may be thinking, everyone sends those emails blasts. No one will actually read what I have to say.
Think again.
It's all in the way you write them. Like most of you, I get hundreds of emails daily. Each morning, I go through the list and delete everything I don't want to bother opening. Some of those that I really get tired of receiving daily go into my spam folder. Others are just deleted.
Creating a personal touch with your emails can make the difference between your customer hitting delete or opening them.
Here are some tips to build and maintain the relationship with your customers
Keep it short and sweet.    Most people don't have time to read long emails, so they skim for the "gist" of it, and often miss what your message is really saying. Keep your messages short and simple and they will get the message quickly.

This is why emails can oftentimes be much more effective than those html newsletters that we send via Constant Contact, Aweber, etc. They serve their place and can be effective if used for what they are intended but they shouldn't a good old-fashioned, well-written email.

Email often.   If the only time you email your customers is when you have a product or service to sell, they'll feel like they are simply customers and they don't have that personal relationship with you.

Write in the first person, with personal stories or anecdotes will help build trust with your readers, and they will then read those messages that are actually selling or promoting something.

Ask what your readers want and need. Then, DO IT. Don't create an email survey unless you actually need it and plan to use the results. There is nothing worse than feeling like you've taken time out of your day to complete a survey and the suggestions aren't acknowledged.
And one more thing – always remember to never spam your subscribers. Only send emails when you have something to say. This may sound like it conflicts with the tip to email often. But it doesn't. You can email often but make sure those emails have value to the customers you're sending them to.
Email marketing can be very effective but like any business-building tool, you need to have a plan and a goal you hope to accomplish when you send out each one.