The 10 Biggest Marketing Mistakes
Made by Business Owners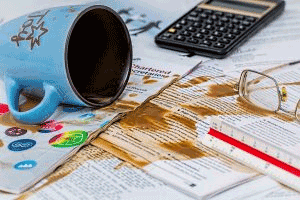 Regardless of what you sell, each and every one of us is in the marketing business.  The failure or success  of a business depends on its marketing.
But we frequently spin our wheels thinking we are doing it right and wondering why it isn't working.
I've put together some common mistakes made by entrepreneurs when they market.  Are you making any of them?
1. Targeting too broad a market (who you're selling your products or services to).   If you tell me that your customer is everybody or even everybody who needs to send a gift, then I'm talking to you.
Even if your product  CAN be used by just about anyone, not everyone is going to buy it. They don't have the money or the interest or whatever. And when you try and target everyone, you really end up targeting no one.
The way to start making money (not to mention getting better results with your marketing) is to narrow your target market. However, there are pitfalls with that as well, as we see in the next mistake.
2. The wrong target market. This happens when you've chosen the wrong target market. What do I mean by the wrong target market? They either aren't interested in buying your product or they don't have the money.
For example, if you are selling high-end luxury gift baskets, you wouldn't want to market the Realtors who sell condos.
3. Not giving them a reason to buy from you.  You know you've got a good target market and you know how to reach them. But you're still not getting any results.   The problem might be what you are telling them.
People have a lot of choices on where to spend their money. You have to give them a very compelling reason why they should spend their hard earned money with you.
Here's where it makes sense to spend more time on your writing skills or hire someone to write your copy for you. If the descriptions of your products are generic or if that sales letter you sent out is ho-hum, you're wasting your time.
4. Not reaching your target market often enough. So you've run one ad. Or mailed one postcard. Or attended one networking event. And the phone isn't ringing or the orders aren't pouring in.
Why?
People forget.  You aren't important to them.  And they aren't going to remember you unless you stay in front of them.  It isn't your customer's job to remember you.  It 's your job to remind them you're here and would love to have their business.
5.  Getting feedback from the wrong people
Are you asking your friends or family members for feedback about your products or service?
What do friends do? Encourage you!  They're afraid of hurting your feelings because they want to remain your friend.
Or perhaps you are posting pictures on a forum or Facebook group that you belong to and asking people to tell you what they think.  These types of groups have members of all levels of experience.  You may be getting input and suggestions from some who are even greener than you are.  More experienced people usually won't take the time to critique you because they either don't want to discourage you or they are just too busy with their own business.
The people to ask are your customers and potential customers.  When I first started my business, I put together a group of potential customers that I had met through networking and organized a breakfast referral group.  During these breakfasts, I would frequently bring in a gift (either the actual gift or a photo of it) and ask for their opinion. We shared opinions as well as ideas and referrals.
6.  Neglecting to build an email list
This is a mistake that I made in the beginning of my business.  I thought that all I needed to do was sell a good product and provide good service and they would become repeat buyers.
Not so.
I was super wrong.  I should have collected emails from every customer and even created ways to get emails from potential customers who visited my store inside our local antique mall.
This goes back to Reason #4.  Without an email list or even a direct mail list, there was no way to reach them with ideas for new gifts or even to remind them that the birthday person they ordered a gift for last year has a birthday coming up this year.
7. Thinking that Social Media Marketing is Marketing
Most small business owners think that social media is marketing.  Actually social media is just a little piece of the big marketing puzzle.  In my experience doing JUST social media is not an effective use of marketing time or money. Social media has to be a part of a blog, email, direct mail and in person marketing campaign.
It can be a  powerful to build relationships, but standing alone as a way to generate sales is not a good idea. Facebook pages used to be a reasonable way to get leads, but unless you pay to boost your posts, most of those who have liked your page will never see what you post.  You should have a Facebook page but that should be just one part of the many parts of marketing.  If you are using social media to sell, remember that some of the other social media platforms (Twitter, Pinterest, Linkedin and even possibly YouTube) also need to be in the mix.
You should never use social media as a way to directly spam your customers with links and advertisements. That's a fast way to get your profile blocked and  your business ignored. The key to using social media marketing is making sure that you're creating interesting and engaging content.
Make sure that your posts are things that your customers will find interesting enough to read. Educate them about your industry and products instead of just sell, sell, sell.
8. Not being REALLY excited about your business
If you are just starting your business, you have to give it everything you have and spend lots of time and energy into it. You can't be half-in while trying it out to see if you like it or if it will work for you.
Even if you've been in business for years as I have, you must be excited enough about your business that you work it regularly and think about it when you're not working.  I go to the gym or walk in the forest for exercise because I spend so much time at the computer and in my studio.  But even when I'm walking or riding the bicycle, I am thinking.  Thinking about how I could design this or how I can market that.
If you are not passionate, I mean REALLY excited about your business, stop and do something else. Get a job, pick something else or figure out what you would love to do but stop torturing yourself. Life is too short to be an entrepreneur who isn't in love with their business.
9. Not planning for the future
If you don't know where you are going with your business, how are you going to market to get there?
I plan a whole year in advance.  Some people plan even more.  I take the time to look back at the previous year and decide what worked and what didn't.  Then I determine where I want to be at the end of the year and how best to get there.
10.  Not telling people what you sell
You would think this comes naturally but it doesn't.  You can't assume that your customers know what you sell. They may know that you sell gift baskets but do they know that you sell welcome gifts or baby gifts or whatever other unique gift ideas you have.
I learned this when one of my best Realtor customers who bought thank you gifts for every house she sold, told me that she had ordered apartment welcome gifts from one of the big companies that specialize in them for an apartment complex that she had taken over the management for.  She was complaining about the cost of shipping when I told her that I made and sold these and shipped them all over the country.
Both she and I were surprised that she didn't know about this branch of my business.  You have to let your customers know what you sell.
These are just ten of the major Marketing Mistakes that small business entrepreneurs make.  There are, of course, others as well such as not having a website, or failing to use direct mail and email newsletters.
If you are making any of these mistakes, it's time to think about what you are doing wrong.  That may be the every reason that your marketing is not effective.