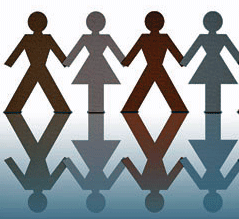 Just read an interesting post on another blog. You can read the whole post at PamMarketingNut but here is part of it:
"People no longer are amazed by the latest commercial, billboard or radio segment. People aren't running to their mail boxes excited for the next spam letter or coupon. They're not looking on their iPhone for the next email spam message with a deceptive title only to find the first three paragraph bragging about you, your company and your revenues!
They also aren't waking up early in the morning thinking "what Facebook pages will I go LIKE today" or "what business Facebook pages will I go visit and see what they want to sell me."
Nope, people are waking up overwhelemed. They want to connect with real people who will help them make it thru the day. People who they can share their ups and downs. People who will support them, inspire them, educate them and help them grow. They want to connect with real people and make real friends. They want to interact with brands who treat them as human beings not robot Facebook likers.
They aren't thinking first of what they are going to buy. Instead they are looking for things to join.  It is human nature to want to connect, be accepted, be part of a group that will make you feel better.
They will buy products from communities who make them feel good. People buy from people. They will buy from you when you make them feel like a person, not a number.
It's why people run to platforms like Facebook, Twitter, Google+ and LinkedIn. It's not just about sharing pictures, status updates or spying on the neighbors. It's about being accepted. It's about fitting in both online and in real life.
People want value.
Business leaders must learn it is about much more than a Facebook like. It is not about community control and selling to robots who like your Facebook page.  Change your mindset to "how can I create a community that provides value?"
The focus should be on building communities that people want to join. Communities that are organic and dynamic. Communities that inspire, educate, make people laugh, support them,  pull them up when they fall down and forgive them when they make a mistake."
I recommend that you click on the link above and read the whole post.  It really makes you think about what you doing with your website, your facebook page and all the other social media outlets that you use.
And it also explains why our community at GiftRetailersConnection is as active as it is.  If you haven't joined it (it's free) or checked in lately, the link is:  GiftRetailersConnection – an online community for gift and gift basket company owners.