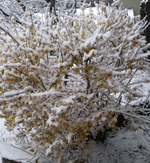 There's a bush by my front door that always takes the initiative and covers itself with bright yellow blooms as soon as we have a few days of spring here in Flagstaff.  And it always realizes that it celebrated spring too soon when we have another late snow storm, as we did the other day.
But that doesn't stop this energetic little bush.  The snow melts and provides water to its roots and it just keeps on blooming until the bright yellow flowers are replaced by green leaves.
Why am I relating this story to you?  You probably have a bush similar to it in your yard.
But this is my special bush.
Each year, it reminds me that there will always be challenges to overcome.  On the morning, when I first discover its brilliant yellow flowers bursting forth, there's a new skip in my step and a smile on my face.  I know that, even though, there may be a few more snowfalls, spring is on its way.
I know that it is time to dig out my business plan and review it to see how challenges of the past year have affected my business.  Since it's always around tax return time, when this bush proclaims new life, I've already been forced to review the accounting figures for the past year.
This is something that all of us need to do at least once a year.  Most people think of January 1st as the time to review and renew.  But, in our industry, after the closing of fourth quarter, with its hectic holiday business season, we're usually too tired and don't have enough final figures to do this properly.
Then comes spring with flowers popping up, green leaves opening on the trees, and sunshine.
Most of you probably don't think of weather in relation to business.  But I do.  For me, winter is a time for taking advantage of all the seeds I've planted during the summer and fall.  This is when the work load is heaviest and the profits are greatest.  By spring, I'm tired.  I'm ready for the sunshine.  I'm ready for a chance to review the past year and make whatever changes need to be made.  I'm ready for renewal.
How about you?