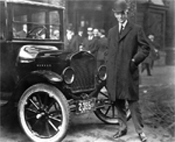 The world is changing rapidly.  I saw a program on PBS last night about Henry Ford and it made me think of today and our own industry.  He built the very successful Model T but as the world, automobile design, and customer needs and wants changed, he still insisted that the Model T was the only car that the country needed.  Only after General Motors and Chrysler took the lead in the automobile world away from him, did he still reluctantly bow to his son's demands that they introduce a new model car.
I've seen similar situations in our own industry.  Owners of gift and gift basket businesses say "I don't need a website," "I don't need to learn anything about internet marketing," and even the more self-fulfilling prophecy of "what I know now is all I ever need to know."  And then there are those who think themselves to be experts that can't be taught anything more about small business, marketing, internet, social media, and everything else that changes as the world changes.  I've been given that reason many times for not paying the $27.95 a year that it costs to subscribe to our magazine or not participating in the forum, which doesn't cost them a dime.
And it's not just in the area of gift and gift basket company owners. We've seen similar lamenting by journalists angry that bloggers are polluting their craft. Or professional authors who feel they've been overrun by independent writers on Kindle. Sure, it sucks when change come along, but you've got a choice and that choice is…
Adapt or Die.
Which will you take?