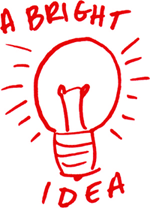 Ideas can be dangerous.
As most of you know, writing is really my forte.  As a true entrepreneur, I am constantly coming up with ideas for new businesses to create and new ways to share what I've learned through the years with anyone that is interested enough to read what I write.
But as I said, ideas can be dangerous.
Take this past week, for instance.  I keep a running list of these ideas and the list is growing longer and longer.  There is no way, in this world, that I can ever use all of them.  That may be just as well as some of them are probably not very good ideas.  But many of them are.  I can see the potential.  I know what they can become. But I also know that even though they may be good ideas, they will be dangerous ones for me if I don't focus on what is really my passion.
Ideas lead you to believe that you can be everything to everyone.
And, of course, you can't.  I was recently asked for my resume and the person reading it asked, "Okay, when do you sleep?"  I sleep as much as most and probably more than many. I just love what I do and spend many hours doing it. But, to me, ideas have become dangerous.
Ever now and again, I have to make myself sit down and take a good talking to.  I say, "Self, how are you going to fit all of this stuff in without neglecting what you already have going for you?"
I continue, "You can't just jump from one idea to another.  Since you can't do everything you want to do and you can't be everything to everyone, what is really relevant and how are you going to deliver the essentials that the largest number of your readers and customers want?"
And that is what I am currently trying to do.  I've developed a magazine.  There's a free forum.  A worldwide directory. And I'm writing ebooks.  The other side of my business has created e-commerce sites in a variety of areas.
So now, I'm asking you.  What is important to you?  What questions do you have that you're dying to have answered?  What solutions are eluding you to problems that you are experiencing?  What needs to you see that you would love to have filled?
Help me out, folks!  Help me focus on what is really essential.  Tell me what your ideas are in the comments area.  All these ideas that I have are just too dangerous for me to try them all.