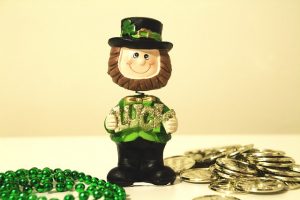 March  is full of opportunities to use content to promote your company and its products.
Content marketing is the act of creating, publishing, and distributing content  with the express goal of acquiring, engaging, and retaining customers.
Here are four  content marketing ideas for March 2017, to inspire you.
1. Tell a Story About Your Business
Using content marketing to reach your customers, both current and potential ones,  is that it can humanize your business while building personal relations.
In March, try to tell your audience a business story. You might tell them about a recent buying trip when you visited a trade show, looked at new products, and made selections for this year.
Or you could tell the story of how and why you started your business. What was the spark that led you to start your business? Or what is the history behind what you do?
2. Start a Blog
If your business doesn't have a blog start one.
While you should distribute any content that you produce on the various social media networks, you also need a home base of for your content.  A blog (such as this one) provides that hub from which you can expand outward to other marketing areas.
Your blog should not be just a selling medium but should focus on providing readers with real value. Selling products is the side effect of offering good, useful content.
3. Produce a Spring Buying Guide
Monday, March 20, 2017, is the first day of spring. It is also an opportunity to help your shoppers prepare for the coming season.
In March, publish a spring buying guide, with recommended products. This is a good way to segue your customers from thinking of the darker winter colors and styles to the brighter colors and and spring designs.  In your guide, also suggest some unique ways that people can use your products.
If you are just marketing to the corporate world, you could call it something like "The Springtime Guide to Marketing Your Business."  Or if your market is more consumer related, it could be named something like "Your Spring Gifting Guide."
4. St. Patrick's Day
March 17 is St. Patrick's Day. If you haven't started using content marketing to grow your business, March and this holiday is an excellent place to begin. Millions of people, worldwide, wear green to celebrate this holiday, giving your business plenty of things to write about.
In the survey that I did recently, you asked for more information about marketing.  Marketing is an ongoing process and should be done on a regular basis.  As a matter of fact, if you missed the last article about it, you can read it here.
Happy Marketing until the next mail from the train is tossed your way!