Meet Dave de Costa, also known as Bibs, The Passion Oil Man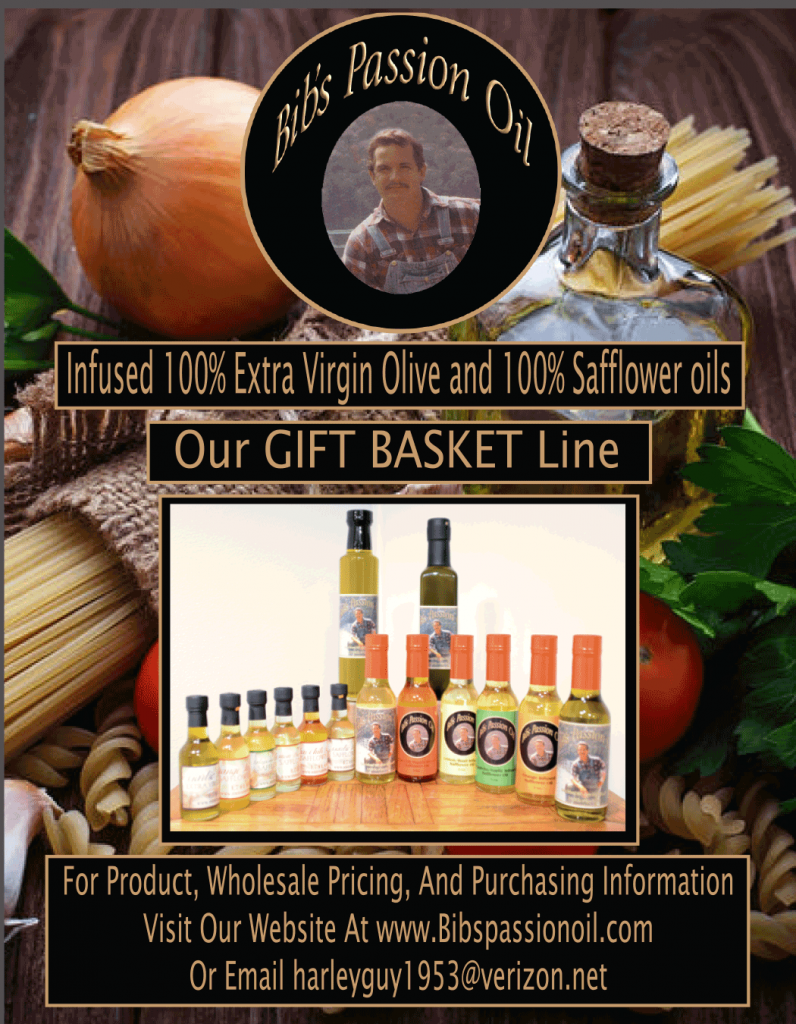 Dave, better known as Bibs because of the bib overalls that he always wears, is one of us senior citizens who think retirement is the time for new adventures. Through the years, he has owned and operated a welding shop, built greenhouses and nursery carts, and even built custom Harley and Triumph bikes.
When he retired from his last career as a prison guard, Dave began a new venture, one that had been forming in his mind for a long time.  A passion for cooking and particularly cooking with garlic led him to create a line of quality infused oil products.
As we all know, choosing a name for a business can sometimes be difficult.  But it wasn't for Dave.  He decided to use his nickname Bibs and his passion for his infused oils to create the company name of Bibs Passion Oil.  His logo is a photo of him at 29 years old and dressed in his familiar overalls. The photo was taken by his wife and it's on every bottle of oil that he produces.
Dave creates his infused oil products in small quantities in a small commercial kitchen so that they are always fresh and have a longer shelf life and he wants to work with you.
So what are infused oils?
Infused oils are oils that have been steeped for many hours with herbs and other dried ingredients  to give them depth and flavor.  They are a light, tasty way to add flavor to many types of meals.  They can be used in cooking, drizzled on a salad, or for bread dipping.
The process  begins with Colavita® Imported 100% extra virgin olive oil  as the base with either garlic or quality herbs and spices added to provide the flavoring.  Once the infusion process is completed, the oils are bottled and sealed.
Dave recently expanded the process to include safflower oils which has a higher flash point for frying as well as natural health benefits.  The four safflower oil flavors that he produces are  orange, lemon and basil, Thai chili pepper, and japapeno and garlic.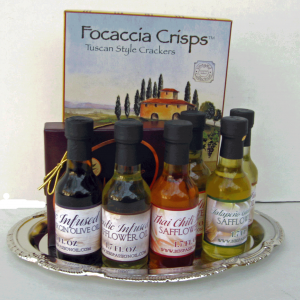 The oils are available at wholesale prices in three different sizes — 1.7 ounce, 5 ounce, and 8 ounce.
The packet of six 1.7 ounce flavor assortment or a couple of the five ounce bottles are ideal to include in a basket along with crackers, focaccia, bruschetta, and cheeses for a unique tasting party gift.
Add a couple of the larger bottles to your Italian dinner baskets.  Any combination of the various flavors would add a taste of uniqueness to a "Chef's Special Gift Basket."   The Jalapino and Garlic  Infused Safflower Oil shouts  "It's Fiesta Time."
This new entrepreneur provides our readers with an opportunity to create those "stand-out" gifts that separate us from the crowd.  Dave is anxious to work with gift basket people and says he can make you a deal that you can't resist.
Check out Bibspassionoil.com to see photos and call him today.  His prices are extremely reasonable and the minimum order is low.