What did you last spend money on as an investment?   Was it the stock market?  A new car?  An update of your kitchen? Or something else?
Let me tell you a simple story.  I had a winter that was on an emotional roller-coaster due to some family issues.  First October, then came November, the busy December business rush, and finally January and a hectic Valentine's February.  I was busy.  Busy running my gift business.  Busy getting out the November-December issue and then the January-February issue of GiftRetailersConnection magazine.  Busy with family.  Busy with all sorts of stuff.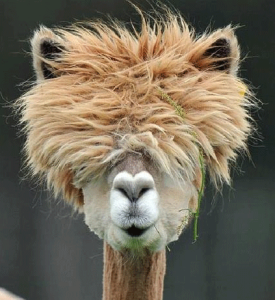 But too busy to get a haircut.  It was fine in October.  But when I looked in the mirror the other day, I suddenly saw what others had been seeing for several months.  The hair was down to my shoulders and looking pretty bad.  Reminds me of the bird in this photo.
It was then that I decided that it was time to invest a little bit of time and a few dollars in something as important as everything else I had been doing.  It was time to invest in myself.
When I looked in the mirror at the beauty salon and saw the difference, I silently asked myself, "What took you so long?"
But what has been even more surprising to me is that a simple haircut made a complete transformation of my whole attitude and how I felt about myself.  Not a big deal?  Perhaps.  But I saw it in others as well as they reacted to this new attitude.
So let me ask you:  When was the last time you made an investment in yourself?  In making you a better business owner?
The haircut was a personal investment.  But I have also made an investment in making myself a better business owner as well.  I'm taking a very advanced writing class from a very special writer.  It's not inexpensive.  But I know that it is going to be worth it.
Why?  At my age, why would I want to be a better writer?  What can it accomplish for me?  For my business?
A lot!  Because I know that "I" "ME" "MYSELF" will be what is successful.  It's not going to be my websites.  It's not going to be my magazine.  It's not going to be my e-books.  It's going to be me — using these things as tools — as I climb the ladder towards what I consider success to be for ME.
All of you who are on my forum at giftretailersconnection.ning.com and those of you who read this blog have had the opportunity to invest in yourself and your business by spending just $27.95 on our magazine.  That's less than the price of that haircut that transformed my attitude.
Have you taken that opportunity?  If not, why not?  Are you telling yourself that you're not ready for success?  That you're not worth spending the money on?  That there are other things more important to spend the $27.95 on than growing your business and making yourself successful?
The question is a simple one.  It is simply, "How important are you to yourself?"