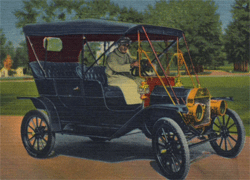 Way back during World War II, when my Dad was off fighting the Japanese in the Pacific, my mother, sister and I lived on a farm in Perdido, Alabama with my grandparents.
It was a time when gas, as well as many other things, were scarce.  I remember one of my great-uncles coming to visit us on his horse.  My sister, Ginger, and I would sing, "Here comes Uncle Charlie, with a feather in his hat, riding on a pony,"  whenever he road up.  My aunt and uncle came in there 1940 Ford.
But, Mrs. Thompson,  a friend of my grandmother, always came to visit in her shiny polished Model T Ford.
That was a long time ago.  Model T's are in museums or pulled out of garages for car shows.  They have been replaced with tiny smart-cars and huge SUV's, along with everything in between.
Is your business, and your knowledge of how best to grow it, still living in the age of Model T Fords and steam engines?  Is it still living in the backwoods, where you began?
I'm not sure where you began your business and started learning the skills on how best to grow it.  Some of you began when brick-and-mortar stores or mail-order ads in magazines were the primary way to reach your customers.  Others started during the age of technology.  I began mine back in the age of Leading Edge computers and dot-matrix printers.  The internet wasn't used for growing a business.
But that doesn't matter.  What does matter is "WHERE ARE YOU NOW?"  Is your knowledge of technology and all that is available to you still stuck in the past?  And even more important, ARE YOU WILLING TO MOVE OUT OF THE PAST?"
I'm sure most of you have heard about Facebook, WordPress, Google +, Blogging, Pinterest, SEO and all the other stuff that is so important to growing a business today.  And some of you use them and use them well.
There are more and more new avenues to reach your customers becoming available all the time.  Knowing they exist, or even signing up for an account with some of them isn't enough.  You have to learn how to use them most effectively to grow your business.
I've heard moans and groans about how Facebook doesn't work.  How blogging is just a waste of time.  How WordPress isn't the best way to build a website that gets indexed by Google.
They don't work if you don't know how to use them correctly.  They are a waste of time if you don't take the time to learn what makes them work and why so many people use them successfully.  And, as you moan and groan, others in the industry are moving on past you.
That knowledge is available all over the internet but it can be overwhelming.  And, like everything else on the internet, you never know what to believe — what is accurate and what is just a way to get your dollars into some scammer's pocket. As I've said before, anyone can be anything they want on the internet.
That is why we, at GiftRetailersConnection, made the commitment to our subscribers in the last issue to provide the knowledge that we have accumulated about the business and technology end of growing a business in each issue of our magazine.
We are committed to the statement that "business knowledge must collide with design if you are going to have a successful business.
If I, at the age of 72, can leave the age of the Model T behind and learn how to use the latest technology to grow a profitable business, why can't you?  I invite you to come along on the journey.  The next issue will be out July 1st and you can be there at the starting line by subscribing at www.giftretailersconnection.com.